FREE UK DELIVERY ON ORDERS OVER £50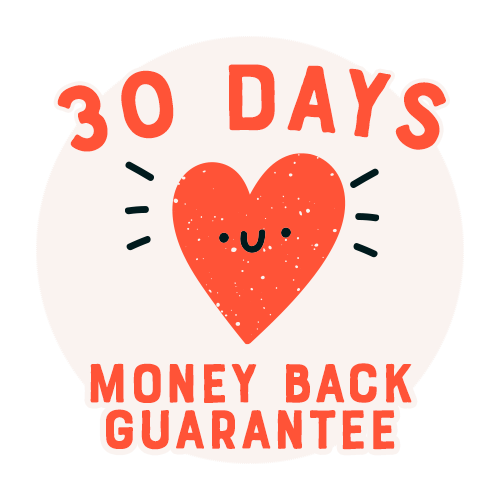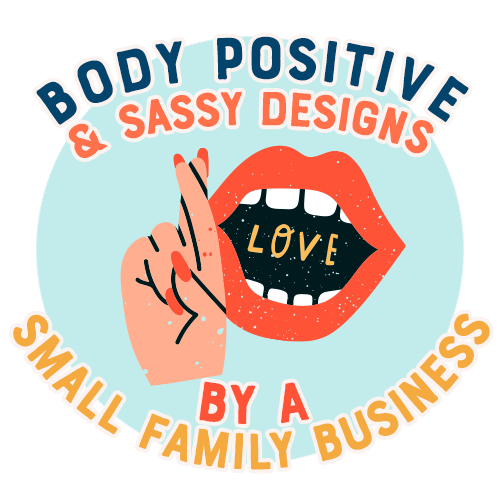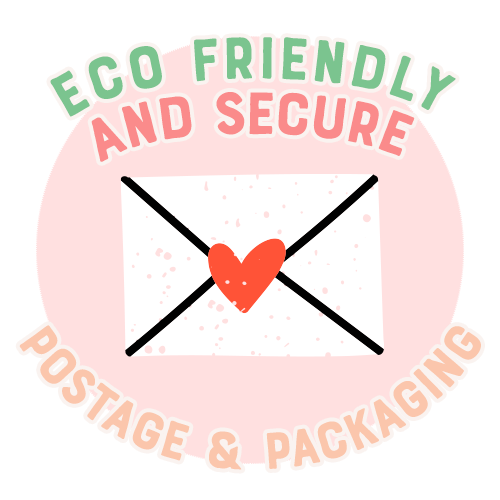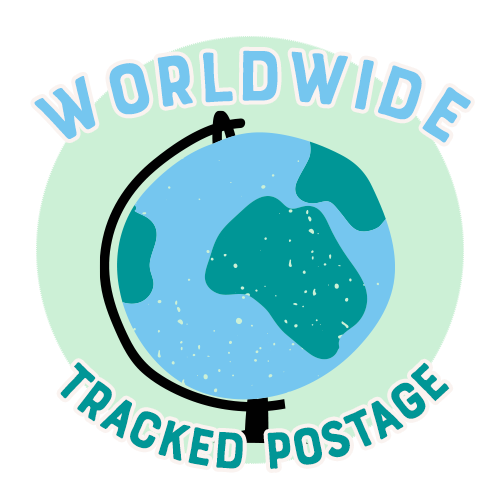 👋 Meet your new Sassy Companion, it's going to be by your side throughout your Weight-Loss Journey. Your new Food Diary is very well endowed (if you know what we mean 😉) because it's packing all the right stuff, in all of the right places 🙌. With more than 16 professionally designed pages, all with Weight Loss in mind. This Food Diary really is the whole shebang 💥! Printed completely on high quality paper with deep saturation inks, this is something you'll want to show off to all 'yo friends 💃. But wait, it doesn't stop there! With premium paper comes fabulous features, like no show-through when writing on your daily pages 📝 and a thick & durable book that's long lasting. Say good bye to cheap quality Food Diaries✌️, because hun, you deserve fabulous quality 💎. Let's go ahead and shine brighter than the sun! 🌟

Photos show Front Pages from our 3 Month Food Diary. If you purchase a 7 Week Food Diary the Front Pages will be set for 7 Weeks, instead of 3 Months.

Premium Thick Matte Card Front Cover
On & Off Plan Stickers with 15x unique Sassy Stickers!

Countdown Card, track your weight loss journey visually

Dream-board, sketch up your journey, places to go, people to see, aspirations and more.

Fabulous Front Pages, designed by us to make your Weight Loss Journey perfect.
High Quality Daily Pages, thick pages that don't show ink through. Colourful & vibrant!
FABULOUS FRONT PAGES INCLUDE
My Personal Food Diary
About Me
Bubble Star Jar / Weight Loss Jar
Before & After Photos
Weekly Weigh In
Weight Graph
Sleep Tracker
Treat (Daily Syn Value) Tracker
Measurements
Favourite Foods & Meals
Activity Tracker (2x)
Recipe Library
Rose Gold Flamingo Paperclip - which is great at keeping track of your daily page, or adding any loose sheets to your Food Diary!
Declaration of Inspiration - a body positive & empowering statement for you to sign, and acknowledge this chapter in your Weight Loss Journey! Keep your Declaration on the fridge, or bedside table to keep reminding you of why you started this Journey, be empowered!

We believe so strongly in our Fabulous Products. That's why we love to collect our Fabulous Customer's Reviews and show them off! So you can buy confident.
Each Fabulous Planning Product comes with our dedicated "Fabulous Warranty" which ensures your product to withstand the test of time.
We're confident that each Fabulous Planning product will function correctly for the length of use.
1 Year - No Quibble Repairs
- During the first year of your new Fabulous Product, we're so confident in the materials we use, that we offer a 1 Year - No Quibble Repairs.
- So if your item becomes faulty within the first year of purchase, we'll repair it / replace it for free! Just get in touch to arrange this.
- We don't outsource our support, so when you reach out you can rest assured that it'll be us reaching back.
- If you have any product questions / product support, get in touch with the "Contact Us" page.
Fabulous Warranty does not cover:

- Accidental Damage
- Water Damage
- Products outlasting their specified duration
- Intentional Damage
Have any further questions? Check out our "Frequently Asked Questions" page. Still unsure? Get in touch with us and we'd be happy to help!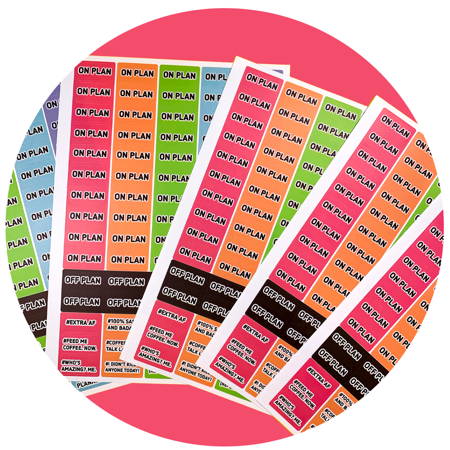 Sassy Stickers, inside every Food Diary.
Let's cut to the chase. You love stickers, and so do we. We all love stickers!
That's why we put enough Sassy Stickers for your Weight-Loss Journey inside each of our Food Diaries, completely free!
No need to pay for additional stickers, or bundles. They come already included inside your Food Diary, and can be found near the front.
Each sheet of Sassy Stickers has "On Plan" and "Off Plan" stickers, so you can easily summarise your day in a colourful way!
Each sheet also contains 15x Sassy Stickers with slogans that speak only the truth. Like "#FEED ME COFFEE NOW." you know, the kind of stuff we're all thinking.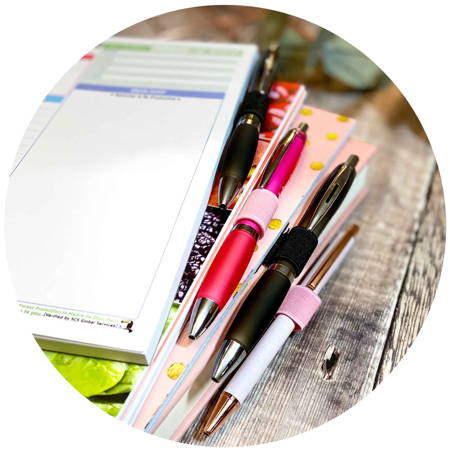 Never lose your pen again. Like ever.
Okay okay, we'll admit it so you don't have to, we lose pens - it's all we do, all day and night. When we put the pen down *BOOM* it's gone.
Well those days are gone, honey. Introducing the Deluxe Pen Holder, attach it to your Food Diary / Journal / Fridge / Child and you'll never misplace your favourite pen, ever again. (so long as you put it in the Pen Holder, duh 😏)
How do I upgrade my life?
It's easy, just peel your new Pen Holder away from it's recyclable packaging and line it up inside your Food Diary. We've designed a special spot to put it exactly so it lines up perfectly in the middle! (Check the "Doodle" page)
You can take the first step towards a more perfect life, by grabbing your new Pen Holder here. Or pressing "Add to Cart" to add straight to your basket.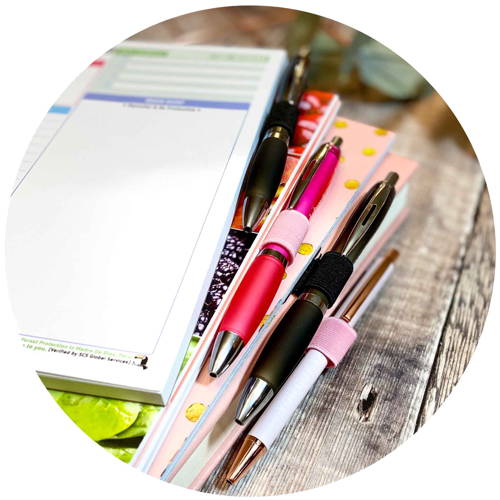 ✕